Tudor Hall is exceptional and unique in so many ways. It is a thriving, vibrant, full boarding school with an integral day community for girls aged 11 to 18.
Academic excellence is achieved through a wide-ranging curriculum which enables girls to broaden their horizons, exceed their potential and provides the foundation for them to speak their mind, take intellectual risks and believe that anything is possible.  Our Aim Higher programme affords all the girls a range of academic opportunities beyond the classroom, allowing them to pursue their intellectual curiosity whilst developing psychological and physical resilience.  The girls are ambitious and determined to make the most of the many opportunities in school and further afield.  At Tudor, pupils are selected not just on their academic ability but also their personal strengths.  Having grown up in an environment where their individual interests and talents are nurtured, girls emerge as poised, confident and articulate young women.
As I join Tudor Hall this year, I have been struck by the way in which the whole community lives out the school motto 'Habeo ut dem', I have that I may give.  There is genuine care for those within the school, as well as those in the outside world.  The girls are impressive in their articulation of why Tudor is so special to them. I can absolutely understand that being part of such a close community enables girls to be comfortable in their own skin and empowers them with everything they need to flourish in life.
I extend a warm invitation to you and your daughter to visit us at Tudor Hall and experience this extraordinary school community for yourself. 

Julie Lodrick 
Headmistress
Julie Lodrick
Headmistress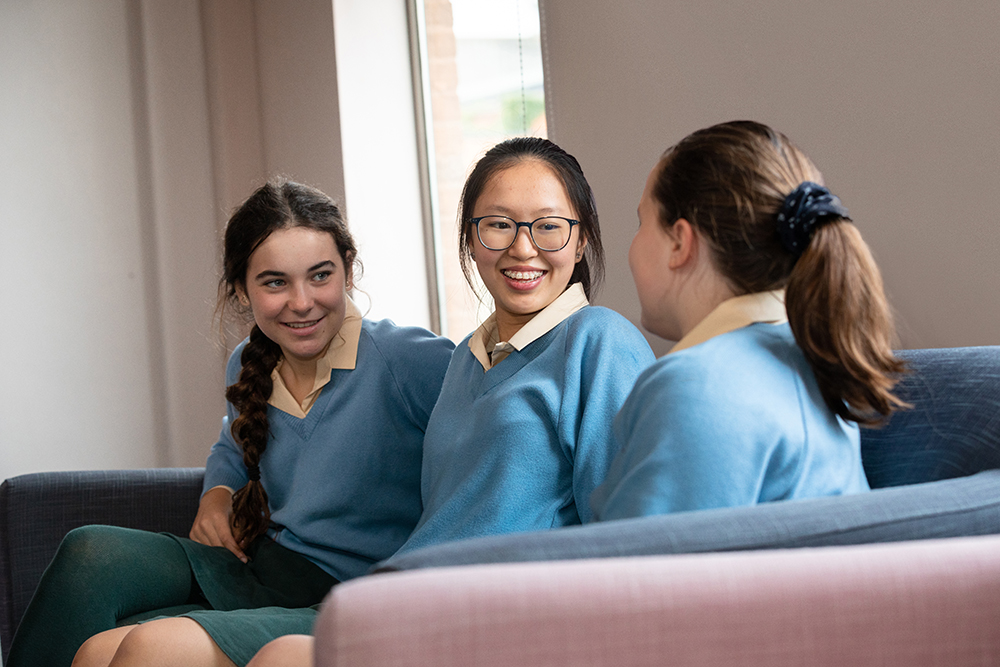 Tudor Hall Bio
A vibrant boarding and day school for girls aged 11-18
Nestled within the heart of the Oxfordshire countryside in Wykham Park, Tudor Hall offers an unrivaled education which is streamlined to the individual academic and co-curricular talents of each student. Individuality is encouraged and valued, resulting in strong, ambitious and determined young adults with a willingness to 'Aim Higher' at each stage of their journey through school. Tudor Hall offers an environment where each girl receives the individual care and support to reach her full potential.
A plethora of diverse co-curricular opportunities complement the academic provision allowing each girl to find something that can become their passion. Whether a day pupil or boarder, each Tudor Hall student is immersed into a world of possibilities and opportunities, enabling them to grow personally and academically. They build the foundations for their future, including firm friendships and an understanding of their place in society. They live by the school motto 'Habeo ut Dem' (I have, that I may give'). The young women who leave us are confident and are ready to embark on the challenges of modern society.
History of Tudor Hall
Tudor Hall School is one of the oldest girls' boarding schools in Britain.
Founded by the Revd TW and Mrs Todd in Salisbury in 1850, by 1865 it had moved to the Red House, a mock Tudor mansion in Forest Hill, south London. From the first it offered an intellectually stimulating and challenging education with distinguished professors visiting the School as lecturers.
In 1908, the School moved from London to more spacious, rural accommodation at Chislehurst in Kent. It was there, in 1910, that Nesta Inglis became a pupil. Years later, when the school nearly 'died' in 1935 (it closed down for one term), it was Nesta Inglis who came to the rescue, re-opening it on 1 October (the School Birthday). She began to nurse it back to life and health, moving it to Burnt Norton, near Chipping Campden, on the outbreak of war in 1939.
The war years at Burnt Norton proved to be happy and successful, positively inspired by the problems and restrictions of war time. The School grew roots in the area, and the family atmosphere – always a feature of Tudor Hall – was intensified by the fact that some of the girls, with their parents, remained at Burnt Norton during the holidays to escape the air raids; so there was much 'bonding' between children, staff and parents.
Burnt Norton was too small to provide a permanent home for Tudor Hall. In 1943 Nesta Inglis came across Wykham Park, and in February 1944 the purchase was completed, though it was not until January 1946 that the School actually moved from Burnt Norton.
As well as the main building and 'Old House', in 1943 Wykham Park comprised two lodges, a bungalow and four other cottages, all set in 46 acres of attractive grounds rolling away towards the south and west.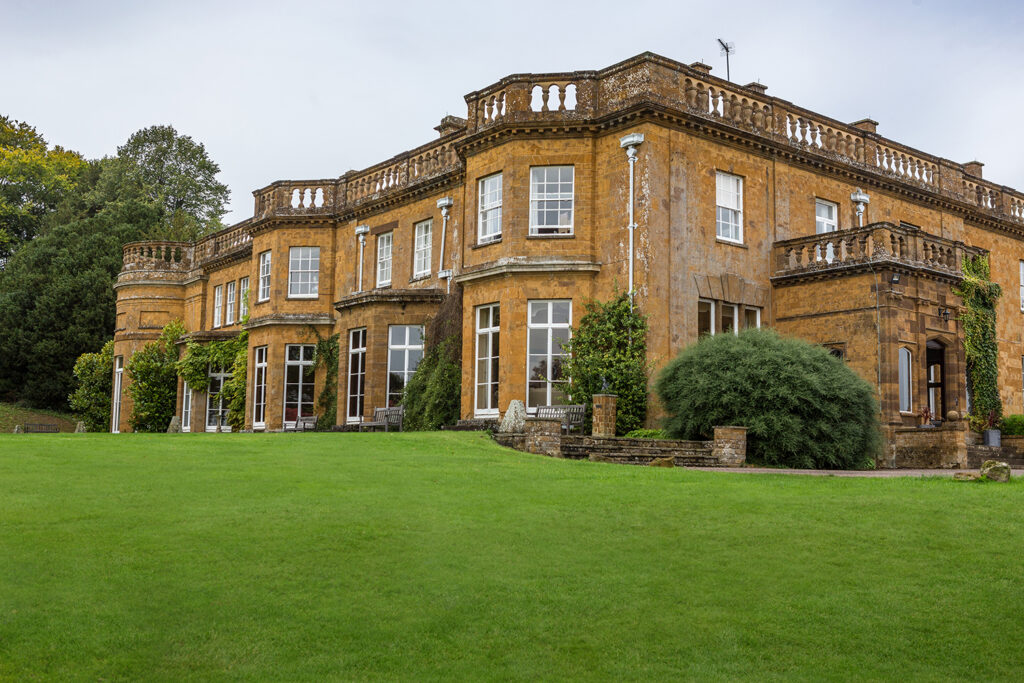 Our aim at Tudor Hall is to get the best out of every pupil. We focus on harnessing their intellectual, physical and creative potential as well as developing their emotional and spiritual awareness. Our diverse and broad co-curriculum allows each girl to be treated as an individual and to follow her own pathway to success.
Experience shows that a well-balanced combination of academic and co-curricular learning increases the willingness to take risks, improves social interaction, develops resilience, boosts confidence and enhances leadership skills. It is these valuable 'soft skills', learnt through practical application in the co-curriculum, that will prepare pupils and allow them to thrive and flourish in their future life in the globalized world in which we live.
Our school motto 'Habeo ut dem' – I have that I may give – runs through all we do at Tudor Hall. We have a variety of co-curricular clubs and trips that allow pupils to give back to the community in which they live and further afield in different parts of the world. We have a busy and productive charity committee organising events for the whole community and opportunities exist for all year groups to take part in outreach events with local community groups and schools.
Read our Co-Curricular brochure here
This brochure gives you an insight into the co-curricular activities and events that are on offer at Tudor Hall. Please encourage your daughter to seize the opportunities available and make the most of them.
We encourage our pupils to be self-reflective and develop the skills which they need. Learning objectives for all activities can be found on SOCs during the sign-up process; this allows the girls to select activities suitable for their learning journey, you will see throughout this guide icons referring to the aspect of personal development on which the clubs focus: Intellectual, Physical, Creative, Spiritual and Emotional.
Tudor Hall Admissions
Daniel Roberts (Registrar)
Fiona Gaskin (Assistant Registrar)
Contact
Email: admissions@tudorhallschool.com
Telephone: 01295 756259
Website – www.tudorhallschool.com
School information
TOTAL Number of Pupils: 322
of which,
● Number of day girls: 85
● Number of girl boarders: 237
Ages: 11-18
Day Fees 2021/22 £7,900 per term
Boarding Fees 2021/22 £13,150 per term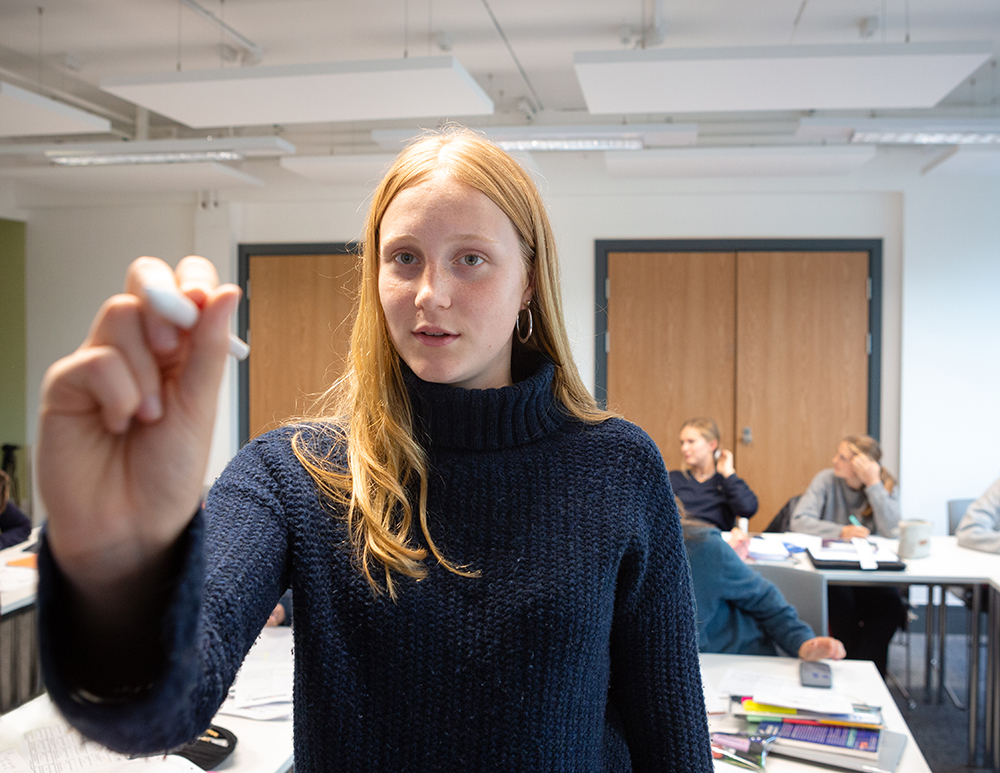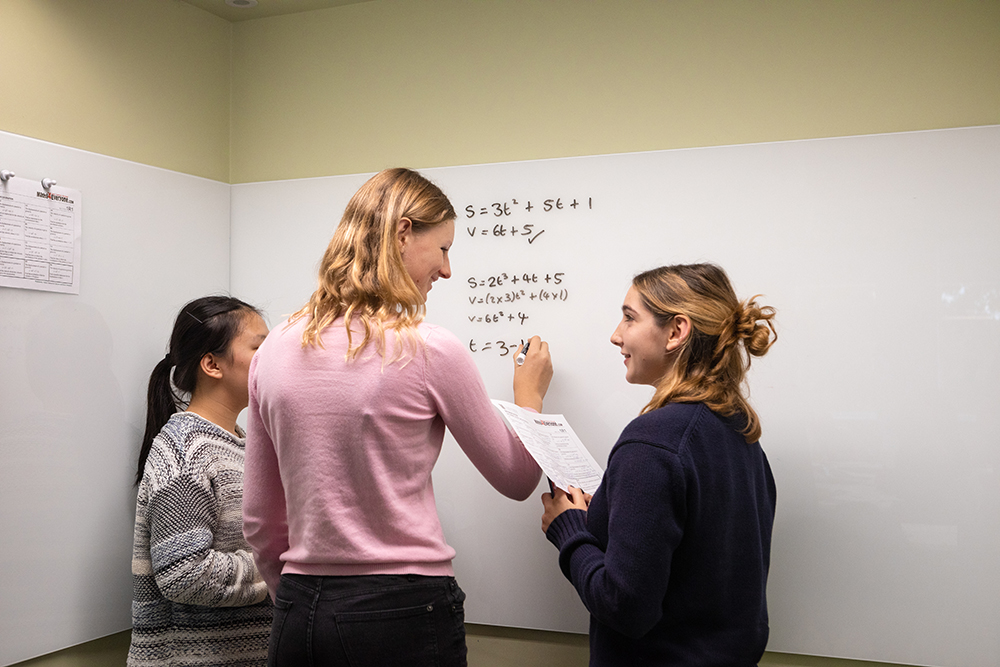 Assessment
11+ assessment takes place during the Autumn Term of Year 6, one year prior to entry.
13+ assessment takes place in the Spring Term of Year 7, 18 months prior to entry.
16+ assessment takes place in the Autumn Term of Year 11, one year prior to entry.
An Application for Entry Form will be sent to all girls who are registered, inviting them to attend an assessment day. Forms should be returned with an administration fee of £200. On receipt of the completed form a reference will be requested from the candidate's current school.
Assessment days for 11+ and 13+ entry feature a programme of tests involving verbal reasoning, mathematics and English and an interview with the Headmistress.
Applicants for Sixth Form will sit a general paper as well as some subject-specific papers (eg mathematics and sciences). They will have interviews with Heads of Departments of proposed A Level subjects and the Head of Sixth Form.
The purpose of assessment days is to allow the school to assess the suitability of candidates for the school. Parents will be given feedback and places offered to those for whom Tudor Hall is viewed as the right school. All offers should be secured by a deposit of £750. Places offered at 11+ will be unconditional. At 13+ they will be conditional on the required standard being achieved at Common Entrance. At 16+ places offered after assessment are conditional upon GCSE results which should be a minimum of 7 GCSEs Grade 6 and above and at least Grade 7 in chosen A Level subjects.
Famous Alumni
Francesca Cumani (class of 2001) – Horse Racing presenter for ITV Racing.
After being offered an opportunity to be a guest presenter on Australia's Channel 7 horse racing broadcast, during a trip to Australia with her horses from her family's business, Francesca went on to become a permanent presenter on CNN and has since developed a successful career as a horse racing presenter.
Emma Willis MBE (class of 1981) – Owner of luxury Jermyn Street brand Emma Willis Shirts and founder of the charity Style for Soldiers, helping injured ex-servicemen.
Emma is best known for her synonymous brand, a favourite amongst Hollywood A-listers and royalty alike. She was awarded an MBE for her services to entrepreneurship and received the Prime Minister's Points of Light award in recognition for her voluntary work.
Dame Julia Peyton-Jones (Class of 1968) – Senior Global Director (Special Projects) at Galerie Thaddaeus Ropac.
Julia famously served as Lead Director of the Serpentine Galleries in London for 25 years, transforming them into an internationally acclaimed visual arts, architecture and design institution, for which she was awarded a DBE in 2016, in recognition of her service.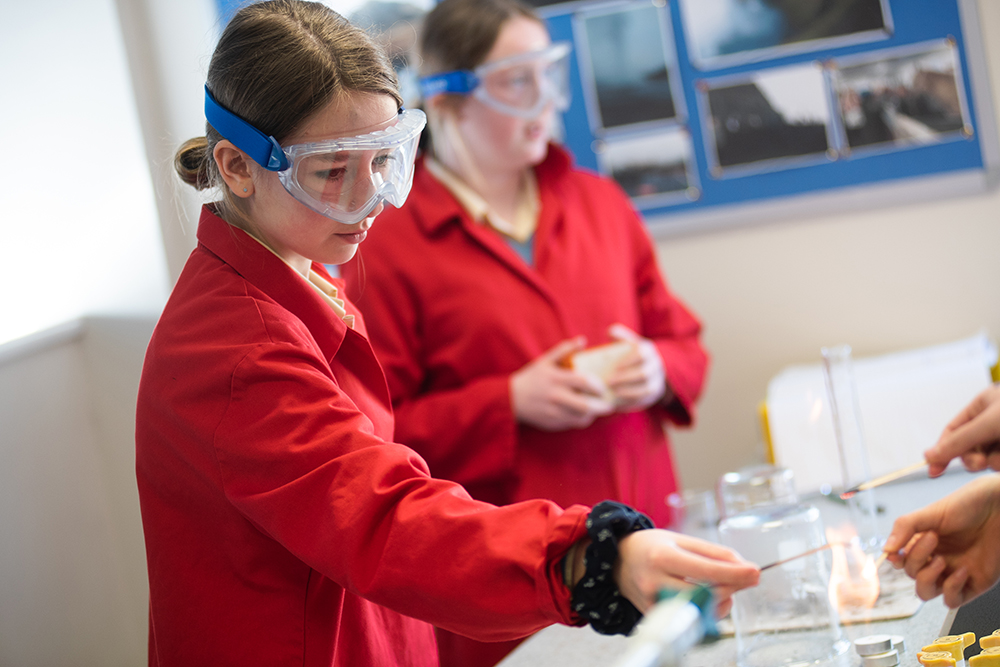 Admissions FAQs
How many applications do you receive for every place?
We receive an average of 1.5 over 11+,13+ and 16+ intakes with 13+ being the most oversubscribed.
Do most families live locally, or do pupils come from far and wide?
Day girls lives within a 30 minute drive, most boarders live within a 2-hour drive. We currently have pupils from Asia, Europe, Africa and Americas.
How do you allocate and assess scholarships?
Anyone joining the school can apply for a scholarship . Candidates are assessed on ability and potential in their field with a practical assessment and an interview with the Head of Department. All applications must be endorsed by the candidate's current school.
Do these have accompanying financial benefits?
Scholarships are worth a nominal amount of up to £1000 a year, they are entirely separate to Bursaries.
Do you offer bursaries?
Yes.
Are they means tested?
Yes.
BURSARIES
Tudor Hall School is able to offer some means-tested bursaries each year, and in special circumstances may offer full or near full fee discounts.
All bursaries are means-tested and separate to scholarships. Prospective and current parents are eligible. For prospective parents, a financial assistance application form may be requested once you have registered your child.
Please contact Neil Urquhart, Bursar, on bursar@tudorhallschool.com if you wish to have an informal discussion about bursaries.
FORCES DISCOUNT
We offer a Forces Discount to military families whether or not parents are eligible for Continuity of Education Allowance (CEA). The discount is:
20% off boarding fees for pupils who start in Todd or IIs (Years 7 or 8)
15% off boarding fees for pupils who start from IIIs (Year 9)
In some circumstances, a means tested bursary may be applied for in addition to the Forces Discount.
Please make note in your application that you are eligible for a Forces Discount.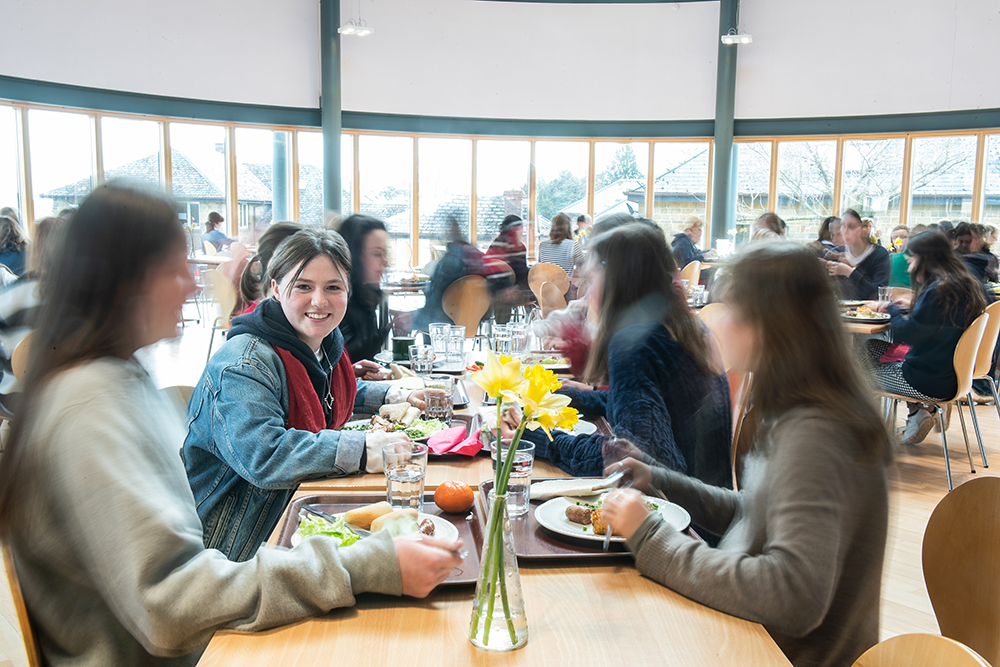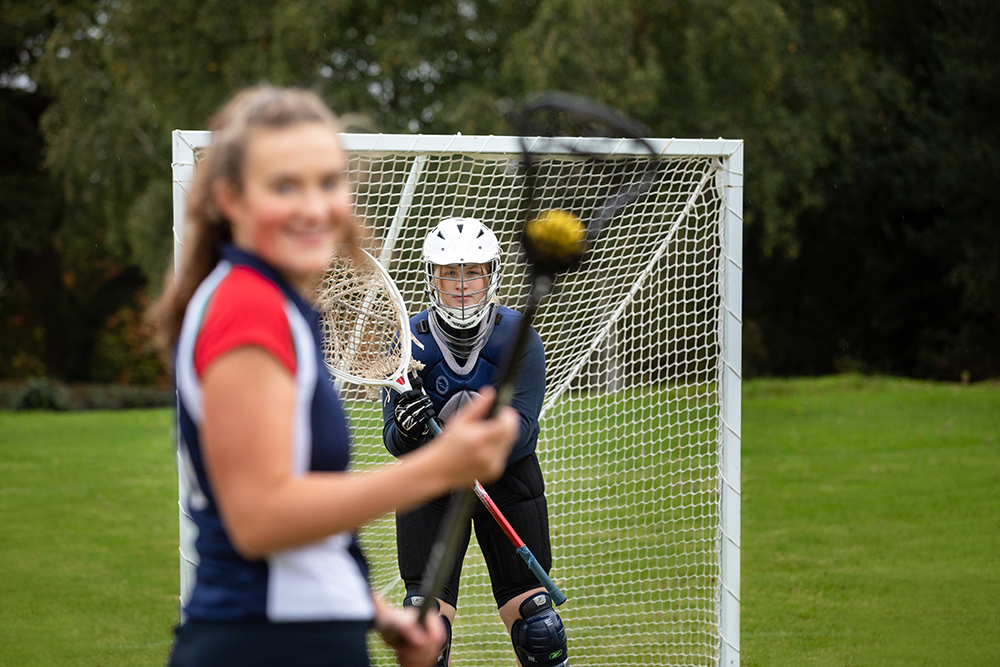 Overseas applications

REGISTRATION
Girls join the school at 11+, 13+ or 16+. We will also consider girls for entry at 12+ and 14+ if places are available. A registration form can be downloaded below or requested from the Admissions Office on admissions@tudorhallschool.com or 01295 756259. There is a registration fee of £300.

ASSESSMENT
Assessment papers will be sent to the applicant's current school for completion. If the applicant is currently in the UK, she will be invited to sit the papers and have an interview with the Headmistress at Tudor Hall. A reference will also be requested from the candidate's current school.
The candidates will sit papers in mathematics and English as an Additional Language. Sixth Form applicants may be asked to sit subject relevant assessment papers or a general paper. Places will be offered to those for whom Tudor Hall is viewed as the right school. All offers should be secured by a deposit of a full term's fees.
Please note that it is a requirement of the school that overseas parents nominate a guardian in the UK. The guardian should either be from a recognised Guardianship Company or be a family member who is resident in the UK.  Every pupil must maintain full guardianship arrangements throughout their time in the UK and at the school regardless of age (no exceptions). Before a CAS statement for a Visa application can be issued, the school must be given a copy of the guardianship agreement, a copy of the applicant's passport and details of any relevant health issues.

NEW GIRLS' DAY
Girls joining at 11+, 12+ and 13+ and their parents will be invited to spend a morning at the school during the summer term prior to the September of entry, when they can meet staff, other new girls and their parents and also purchase uniform.
Girls joining at 14+ may come and spend a day in school during the Spring or Summer Term.
Girls joining in the Sixth Form will be invited to the 3–4 day Sixth Form Induction Programme following GCSE examinations at the end of June.
Please contact the Admissions Department if you have any questions about the admissions procedure.