Open Days
Open Days are typically held in May and October. The next Whole School Open Day is on Saturday, 1 October, for families interested in Years 1-13 at St Leonards. To register for this event, please visit https://www.stleonards-fife.org/admissions/open-days-visits
Any day is an open day at St Leonards, and families are warmly invited to arrange a tour at a time to suit them. Please contact the Admissions Team to make arrangements.
Our School
St Leonards prides itself on being a 'big-small' school, with just over 600 pupils – boarding and day – coming from all over the world to study here in St Andrews, the Home of Golf and of Scotland's oldest university. The ethos of the International Baccalaureate permeates life at St Leonards. Pupils are encouraged to be inquirers, communicators, risk-takers, knowledgeable, principled, thinkers, open-minded, caring, balanced and reflective.
As a through school, pupils are welcomed from age five up to 18, with boarding available from age ten. The boarding houses have recently undergone an extensive refurbishment, and serve as stylish yet comfortable 'homes from home' within the secure school grounds.
History
Forward-thinking yet steeped in tradition, St Leonards has been at the forefront of education in Scotland, and in the UK, since its foundation in 1877. From its inception as a pioneering school for girls through to becoming fully co-educational, St Leonards has demonstrated a progressive spirit. It became an International Baccalaureate (IB) World School in 2006, and today is one of just two schools in the UK to actively offer all four IB programmes.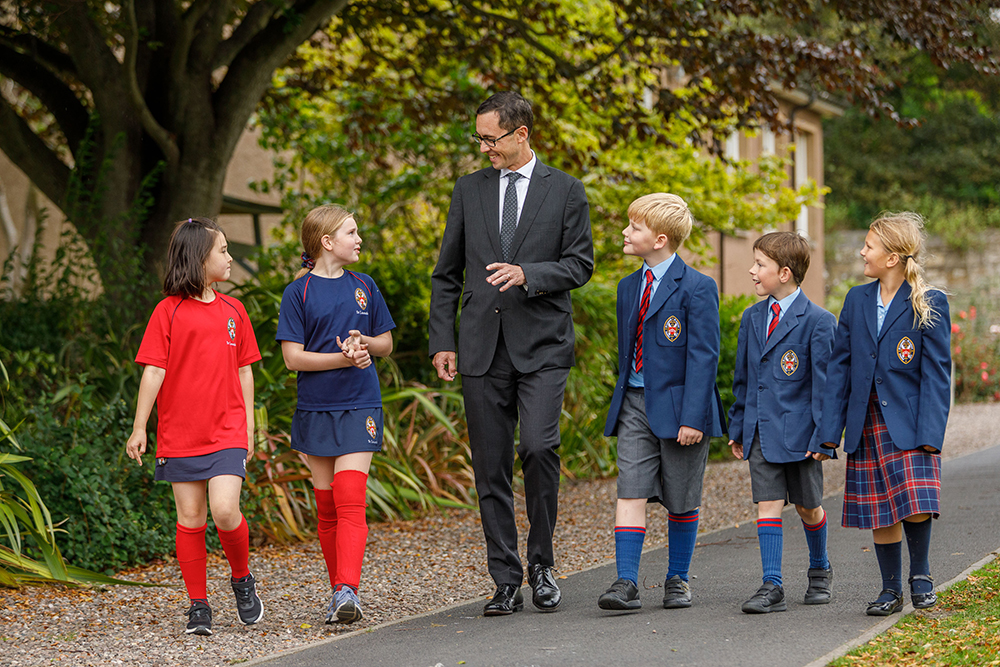 St Leonards is renowned for being the 'cradle of lacrosse', the first game of women's lacrosse having been played at the School in 1890. So charmed by the first and second headmistresses – Dame Louisa Lumsden and Dame Frances Dove – upon watching a men's lacrosse match in Canada in 1884, that they introduced it at St Leonards, founding the sport as it is now known for women the world over.
The school motto is 'Ad Vitam', interpreted as 'for life', and this was inspired by Prior John Hepburn, one of the two founders of St Leonard's College, which stood on the school site from 1512. Situated within medieval walls, between the sea and the historic university buildings of St Andrews, St Leonards boasts a truly special location: an unrivalled place to live and learn.
Scholarships & Bursaries
Boarding fees from £8,763 – £13,651 per term (Years 4-13), and day fees from £3,575 – £5,791 per term (Years 1-13). Requests for financial assistance with fees are considered on a means-tested basis. Fee remissions are available to families with more than one pupil at St Leonards. 
Scholarships are available, recognising outstanding achievement in sport, music, drama, art and academics, however these are not associated with a fee discount. Golf scholarships are awarded each year at the discretion of the Director of Golf, including the Tom Morris Scholarship.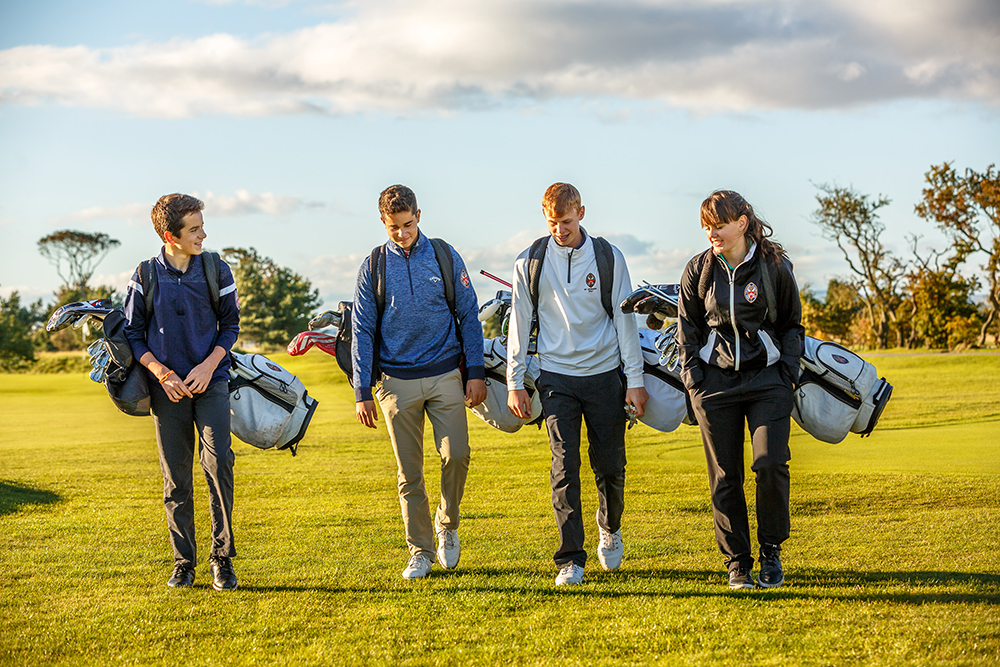 Co-curricular Activities
The inspiring IB curriculum is complemented by over 50 co-curricular activities, from sport to music, drama, art, debating, outdoor learning and more. A thriving Beach School ensures pupils benefit from St Leonards' location, bringing learning to life by the water's edge, whilst the dedicated Music School and bustling Art Department are always hives of activity. Not to mention the beehives themselves, which are tended to by pupils and staff, who produce St Leonards honey each year and plant the grounds to attract bees and other wildlife.
A leading six-tier Golf Programme caters for every level of golfer, from the beginner to the elite, delivered in partnership with the St Andrews Links Golf Academy. Pupils enrolled on the programme benefit from state-of-the-art tracking technology, facilities, and access to seven Links golf courses, including the famous Old Course.
Exam Results
Exam results are excellent and leavers go on to study at top UK and international institutions including Oxford, Cambridge, St Andrews, Edinburgh, Durham and beyond. Pupils take GCSEs in Year 11, with two Sixth Form pathways offered in Years 12 and 13: the IB Diploma or Career-related Programme. The average Diploma score for 2022 was 36, including two perfect scores of 45 points, and exceeding a global average of 32 points.
At GCSE, in 2021, 99.8% of qualifications were awarded grades 9-4, with 60.2% of grades awarded at A*/9/8/7.
Contact
Address
St Leonards School
St Andrews
Fife
Scotland
United Kingdom
KY16 9QJ
Contact Email