At Oakham, we aim to provide an education for pupils that not only acts as a preparation for life after school, but also recognises that these years are precious and should be joyful, memorable and transformative. Pastoral care lies at the heart of everything we do. By looking after your children and teaching them to know how to look after themselves, we will help them on their journey to become adults who are ambitious, confident, aspirational, and courageous, but who have their feet firmly on the ground. We combine our exceptional pastoral care with academic excellence and outstanding co-curricular opportunities, underpinned by our core values, to enable your children to flourish at school and long into the future. Above all, Oakham is a welcoming community that values learning and human relationships, which are the bedrock of a successful and happy life.
Henry Price
Headmaster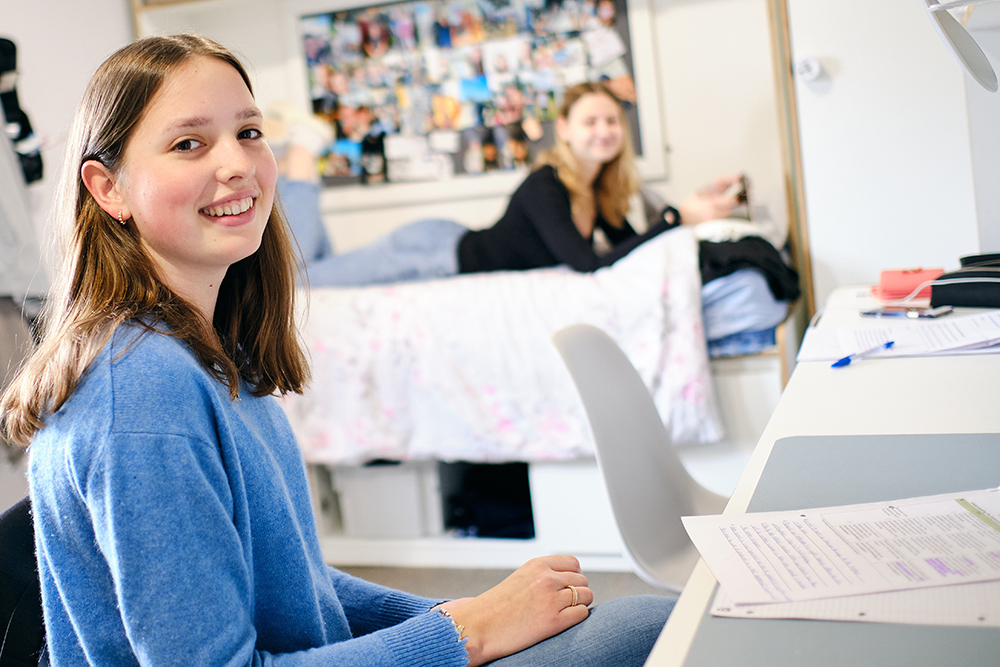 Oakham is a vibrant, fully co-educational boarding and day school for 10–18 year olds.
Pupils usually join Oakham at age 10, 11, 13 or 16. You can choose to be a full boarder, a day pupil, or select one of our flexible boarding options.
The best way to get a taste of Oakham life is to come and see us in action, either on an Open Morning or for an individual visit.
We look forward to welcoming you to Oakham School!
Virtual Tour: Take a Closer Look
The School's location close to Rutland Water, in the picturesque town of Oakham, means our pupils and staff are able to enjoy the safety of living and working in a beautifully green campus just a few minutes' walk from its historic town centre and amenities. At the same time Oakham's excellent road and rail links mean that London, Birmingham and Cambridge are all within easy reach.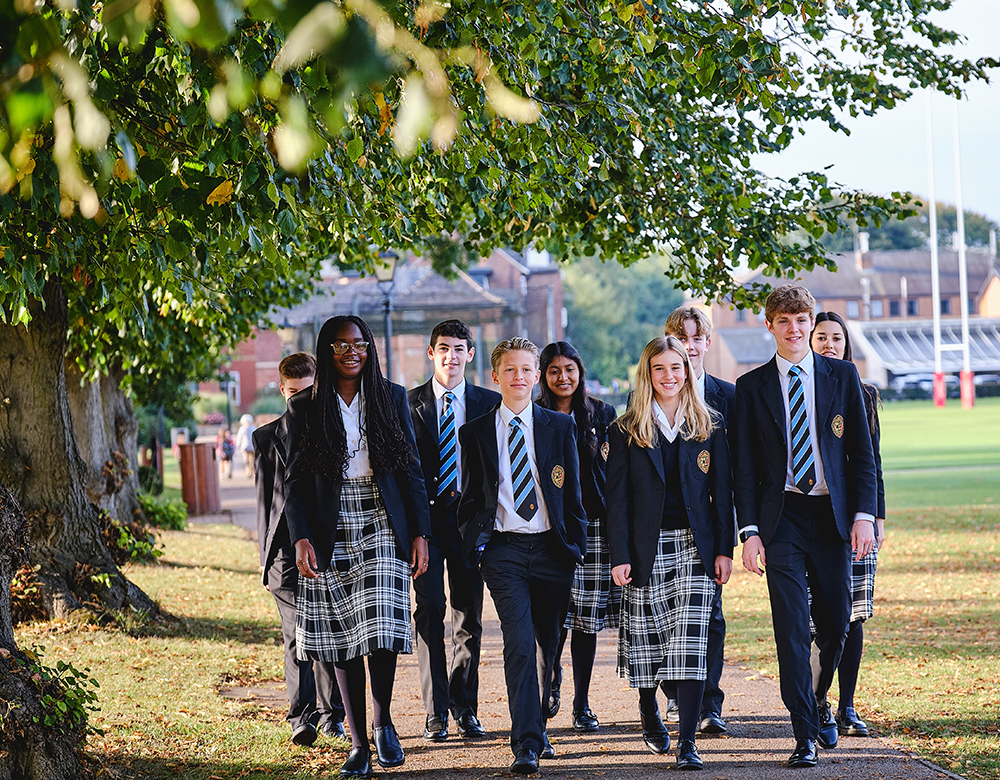 Whilst academic excellence lies at the heart of everything we do, our focus goes far beyond just encouraging our students to achieve outstanding results in their examinations. Our genuinely holistic approach to education means that students leave Oakham as intellectually ambitious thinkers, who are effective and independent learners, well equipped with the skills and habits of mind to thrive in tomorrow's world. Over many years, the School has also been recognised nationally for its outstanding achievements in sport, music, drama and the Duke of Edinburgh's Award Scheme.
Oakham is well known and loved for being a friendly and unpretentious school. Our key strengths lie in the spectacularly wide range of academic and extra-curricular opportunities that we provide and our exceptionally caring and balanced school community.
Our House structure ensures we nurture all aspects of our pupils' well-being during every stage of their Oakham journey. Pupils are surrounded by staff who are expertly trained to support their needs, who challenge them to become independent, thoughtful and responsible young adults, and who provide a home-from-home experience.
Extra-Curricular at Oakham
Extra-Curricular: Oakham School offers a wide and diverse range of 125 different extra-curricular activities from Sport to Music and Theatre to Art and Design. Sport has always been an essential part of Oakham School life and we offer a wide and varied sports programme that provides competitive and recreational opportunities for pupils of all levels – from enthusiasts to elite athletes – to ensure that our pupils lead healthy and fulfilling lives at School and beyond. As well as Sport being integral to Oakham life, The Arts also have a strong tradition at Oakham that embraces excellence and enthusiasm, professionalism and participation. Indeed, we believe the Arts are fundamental to our pupils' broader education. In Drama, House theatre productions sit alongside Edinburgh Festival plays; in Music, virtuoso musicians play concerts one day and novices take to the stage the next; and in Art and Design Technology, degree-standard exhibitions are on display while newcomers explore the challenges of ceramic sculpture, paint or electronics.  Our comprehensive activities programme is a part of life at Oakham, providing our pupils with the chance to discover where their passions lie and develop their hidden talents.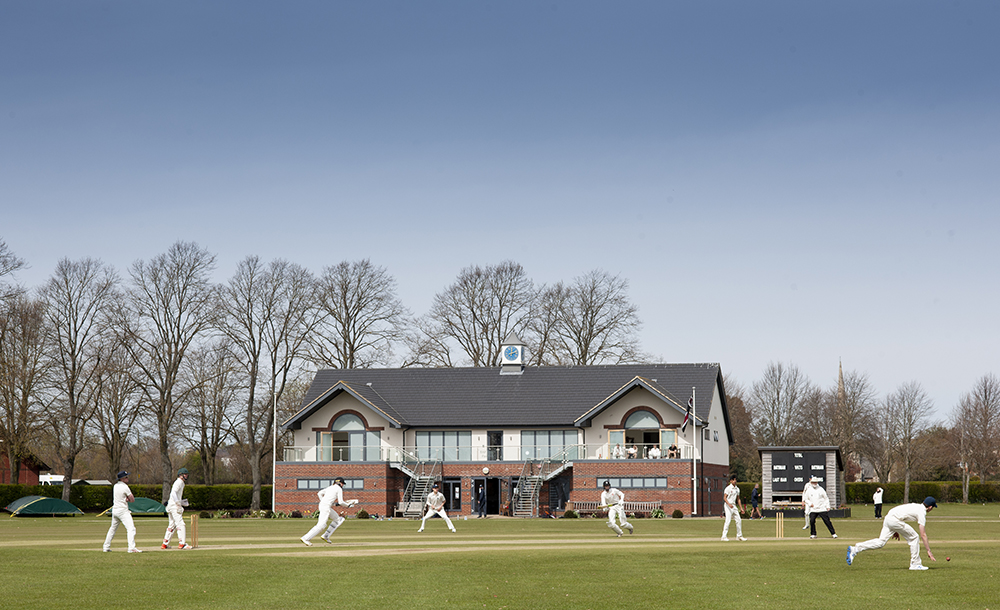 Pastoral Care at Oakham
Pastoral care:  Key to this is our unique House structure, which enables us to provide support tailored to the age of our pupils at every stage of their Oakham journey. In the Lower School pupils join one of our four Lower School Houses that are situated on the separate Jerwoods campus. At 13 pupils join one our 10 Middle School Houses in the heart of the School. In Form 7, their final year, girls move to Round House and boys to School House, where they experience a more university-oriented lifestyle.
Each House has a caring and experienced team of adults, who are always on hand to deal with the day-to-day issues that arise for the pupils in their care. In addition to the Housemaster or Housemistress and tutors, all Houses benefit from the support of a Matron. In the Lower School a Day Matron supports the four Houses, as well as the two Assistant Houseparents who help care for the boarders. In the Middle and Upper School each Boarding House has a Matron, whilst the four Day Houses also enjoy the assistance of a Day Matron.
Scholarships and Bursaries
At Oakham School, we offer a range of scholarships to recognise academic, all-round, creative, or sporting potential and excellence. 
There are two types of scholarship available: those that carry a small fee reduction and honorary awards. Additional financial support is available through means-tested bursaries and candidates can apply for both a scholarship and a bursary.
Arkwright Scholarships for Sixth Form entrants
Oakham is affiliated with the Arkwright Scholarships Trust, a national award scheme for pupils wishing to study Design and Technology and/or Maths at an advanced level.
How to apply
Contact our Admissions team, who will be able to answer any questions and send the appropriate forms. We also recommend speaking with your child's current headteacher, as we will ask for a confidential supporting report from them. A form for this will be sent with the application form.