Welcome to Kingston Grammar School
Kingston Grammar School is one of the most successful co-educational schools in the country. Inspirational teaching and a deep commitment to pastoral care means that students grow in confidence and understanding, and individual talents and creativity are able to flourish. Our students are bright and enthusiastic; their joy in life and spirit of curiosity makes education here a real pleasure.
Our co-curricular programme plays a central part in this. Students develop their self-awareness, skills and competence through an extraordinary range of trips, expeditions and activities, contributing significantly to the rounded individuals they become.
For many, the world outside the formal academic curriculum will provide the key to their future lives. Physical Education and Sport in Independent Schools (2012) by Malcolm Tozer contains a survey of the number of sporting internationals to have come from independent schools since 2000. Kingston Grammar School is ranked equal fifth, and third for Olympians – quite an achievement for a school of our size.
You will also find a strong tradition of theatre, art and music here, with Old Kingstonians making their mark on the stage, in performance and in all aspects of the design world.
The future for Kingston Grammar School and its staff and students is an exciting one.
Stephen Lehec
Head Master
KGS Head Master Stephen Lehec commented, "Behind each exam success is a student who has shown the most impressive commitment to their studies whilst embodying the KGS motto of 'work well and be happy'. At a time of such uncertainty, I could not be prouder of this group of students for their positivity and resilience. It is always sad to say goodbye, but they leave KGS having made valuable contributions to the School and wider community. We wish them the very best as they take their next steps into the world.
In 2022, 17 students achieved a clean sweep of A*s with 5 students accepted to Oxbridge
Grades achieved A*/A in 2022
Grades achieved A* – B in 2022
Kingston Grammar School History
Kingston Grammar School dates its origins back to the 16th century, established in 1561 by Queen Elizabeth I and known as Queen Elizabeth School. Kingston Grammar School was renamed in 1904. In 1961, HM Queen Elizabeth II visited Kingston Grammar School on the 400th anniversary of the Royal Charter and again in 2005 to open the Queen Elizabeth II building.
Our school motto, Bene Agere ac Laetari (Work Well and Be Happy), is the 'golden thread' that weaves its way through daily school life.
"Our aim is to create an environment in which we work together to encourage the highest academic aspiration and to promote independent thought; one which provides opportunity for engagement in a rich and diverse co-curricular programme, which expects everyone to show a proper regard for people and our environment and which develops in all of us a culture of service, partnership and personal integrity."
ASPIRATION
We offer a first class education to every student, inspiring all our students to achieve their full potential.
INDEPENDENCE
We seek new and different ways of engaging with the challenge of educating students for the twenty first century, extending beyond the curriculum so that our students gain the skills, motivation and confidence to direct their own learning and to think creatively.
ENGAGEMENT
We offer an extraordinary range of co-curricular activities, promoting self awareness, skills in leadership and team-working and broadening understanding of the wider world.
PARTNERSHIP
We work together with parents, alumni, friends of Kingston Grammar School, and members of the local and wider community, sharing facilities, ideas and good practice, so that we can offer our students the best education and the opportunity to engage in a life-long community in support of each other and of the School.
RESPECT
Our students are taught to value the world we live in, its people and its environment, to respect different traditions and ideas, to develop sportsmanship and a spirit of generosity, and to care for others through active service and charitable engagement.
They are taught to understand the importance in life of a spiritual dimension which goes beyond material possessions, seeing value in the beauty of academic discourse, the creative arts and the natural world, engaging with religious truths and philosophical debate, and developing an understanding of the importance of friendship.
INTEGRITY
We expect the highest standards of personal conduct, integrity and honesty from all members of our community, engendering an atmosphere of mutual respect, a willingness to listen and to work together to achieve the best results.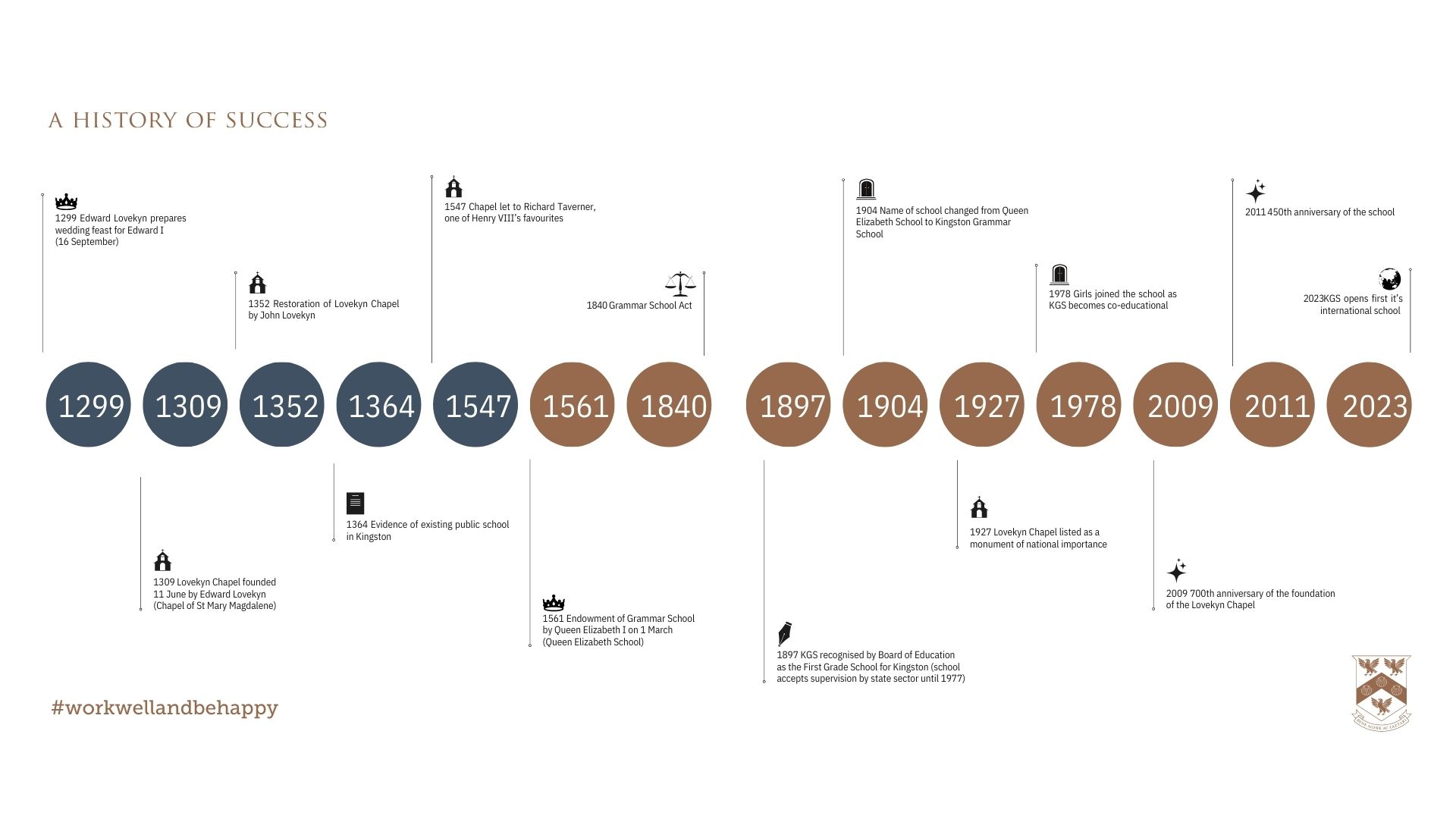 Work Well and Be Happy
The School provides an extensive co-curricular programme which seeks to capture the imagination of each student, providing them a variety of stimulating physical, artistic, cultural and recreational pursuits, helping them to develop positive character attributes. Involvement is considered essential to personal development and participation and balance are carefully monitored through the tutor system and recorded on student reports. Each student is expected to reflect on their own growth, lessons learned and skills developed during regular intervals throughout the year. Through involvement in co-curricular activities, students will:
Be encouraged to develop their intellectual curiosity and explore their creativity so that they become more effective problem solvers.
Have opportunities to be part of a team, to lead and to be led by others but also to demonstrate independence, take responsibility and to develop self-reliance.
Be exposed to appropriate challenge, to encourage hard work, grit and resilience. • Be encouraged to develop their self-confidence and communication skills.
Have the opportunity to recognise their privilege, to give back via citizenship and to learn compassion, empathy and humility through service to others.
In doing so, we believe that our students will be better equipped to face the challenges ahead of them in the future, and to make a positive difference to their community
Our co-curricular programme offers more than 80 individual clubs, societies and activities including those in Music, Drama, CCF, Duke of Edinburgh, Young Enterprise, Technology Challenge, Gibbon Society (Debating), Community Service and Chess. KGS has a local and national reputation of excellence in hockey and rowing and nurtures the performance athlete whilst equally catering for the enthusiastic participant. A wide variety of competitive sports are offered including hockey, rowing, cricket, tennis, football, netball, athletics and golf. At senior level students can choose from options including sailing, kayaking and climbing. The house system sits at the heart of the co-curricular programme and a full schedule of house competitions, designed to encourage participation at all levels and ages, take place throughout the year. Each student joins one of our five houses (Lovekyn, Queen's, Taverner, Walworth and Stanley) contributing to the effort to win the House Championship trophy. Winning is about more than just lifting the cup, however. It is about building friendships, trying new things, developing skills and confidence and having fun, so that students can fulfil the school motto, 'Work well and be happy'.
Admissions
Our aim has always been to produce happy, well-adjusted young adults who want to make their world a better place, and we hope that education at KGS is a significant step towards this.
Our annual Open Day is held in the Autumn Term and offers families an opportunity to experience why its great to be at KGS.
Open Mornings are also held during the Autumn Term and a Sixth Form Open Evening is held in June.