Chigwell School was founded in 1629 and for nearly four centuries we have been preparing pupils to go out into the world. It is a happy, mutually supportive, family-orientated community in which parents and staff work in partnership to help pupils reach their full potential and where friendships formed often last a lifetime. There is a special warmth about the nurturing Chigwell community, with excellent facilities set in a beautiful open site of 100 acres, within view of the City of London.
Chigwell is a co-educational school for 4- to 18-year-olds with boarding available at Sixth Form. You will find that we are a busy school where pupils of all ages work closely with each other and their teachers. In Chigwell pupils, we look for academic ambition and a genuine eagerness to be involved in all that the school has to offer. Through the curriculum and the wide range of opportunities available to them beyond the classroom, each becomes the very best they can be; independent in spirit, adventurous in approach, and empathetic in how they treat others. Ultimately, we aim that each and every pupil will forge their own path to success, true to our motto: Find a way or make a way.
Nestled in the outskirts of London in leafy Essex, Chigwell School is situated on an extensive 100-acre site. We benefit from a unique blend of listed historic buildings modern facilities and spacious grounds. We have a dedicated Drama Centre for those aspiring thespians, Music school that houses many ensembles, our prestigious Choir, an Art as well as Science blocks. Our Swallow library is situated in the oldest part of the school and benefits from some wonderful architectural features.
Our more recent addition is our Sixth form Centre which is home to our A l pupils. It has six classrooms, study, and social spaces and a centre for careers and university advice, as well as a coffee shop and a large seating area.
Our self-contained Pre-prep school was build 10 years ago to house specifically our Reception, Year 1 and Year 2 pupils and benefits from its own library, multipurpose hall and dining room, an ICT suite, science, music rooms, spacious playgrounds, a woodland classroom, a fairy garden, and an adventure play area.
We have recently embarked on the construction of our New sports centre, which is due for completion in September 2023 and will be home to a six-lane 25-meter swimming pool, five-court multipurpose sports hall, gym, individual studios, and a café.
Our boarding provision and care have been classified as excellent by ISI. Our four boarding houses are homes from home for approximately 30 sixth-form international pupils, who come from a range of countries both within Europe and overseas. Our boarders benefit from a homely close-knit and caring support network of houseparents.
Scholarships offered
Academic scholarships, awarded at 11+, 13+ and on entry to the Sixth Form
Music scholarships, awarded at 11+, 13+ and on entry to the Sixth Form
Art and drama scholarships are awarded on entry to the Sixth Form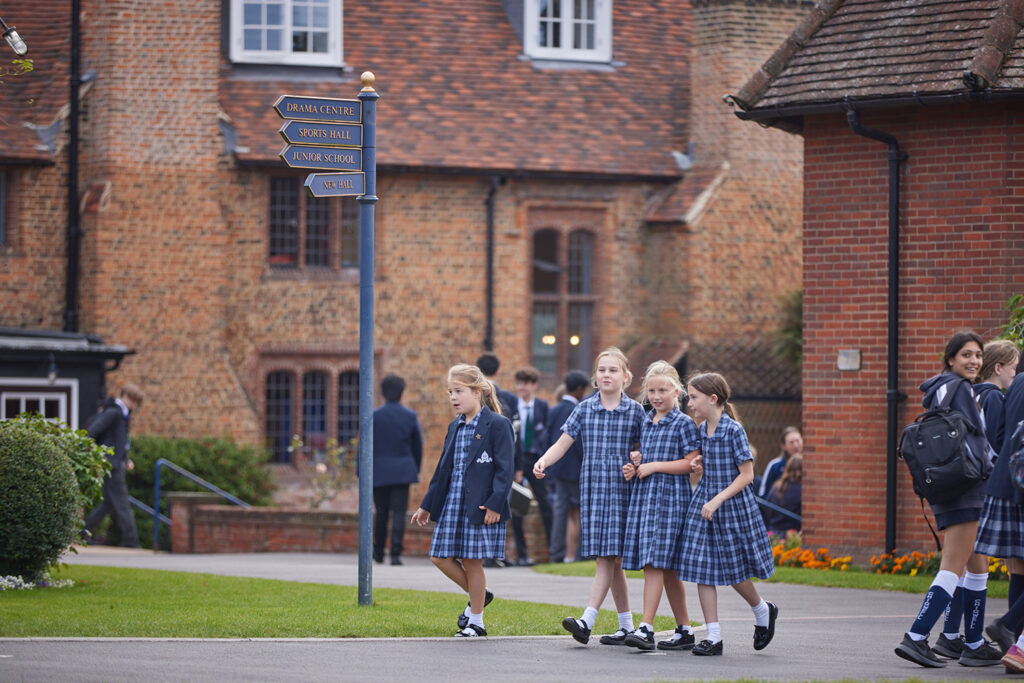 At 4+ the assessment consists of pupil participation in a range of activities based around numeracy, literacy, listening and responding to stories/songs and joining in with a range of activities centred on the EYFS curriculum. At 7+ and 11+ one can expect an interview followed by an English and a Maths paper. At 13+ candidates will sit an English and Maths paper as well as a modern foreign language of their choice, followed by an interview for successful candidates.  Entrance to Sixth Form typically require 8s and 9s in the subjects being studied at A-Level along with an interview and a school report.